It all starts with a chat about you…
Are you considering going into business, but don't know where to start? Do you need additional support with your existing business or help and guidance to grow and explore new opportunities?
If you've answered yes to any of these questions, then the team at Bob Rehill Associate Network could be the missing puzzle piece you've been looking for.
With over thirty years in industry and business, Bob Rehill brings a wealth of personal experience to share in his advisory, coaching, and mentoring practice, giving you the tools to move towards achieving your goals.
An Accountant by background, Bob has spent the last twenty years focusing on supporting global organisations through Transformational Change, including well-known corporate brands across a variety of sectors. He has consistently engaged at all levels in the business from Operational Teams to Executive Boards, as well as being the Founder and CEO of a number of successful business ventures, giving him an excellent grounding in his understanding of end-to-end business dynamics and the challenges faced by entrepreneurs and founders.
If you're looking for someone who can help you in any of the following:
Finding the right business for you
Creating an effective action plan
Finding solutions and the motivation to put them into practice
Gaining the confidence to move things forward in your business
Accessing the resources and tools you need to achieve your aspirations
This truly all-round experience, together with a calm and engaging style, makes Bob a stand-out Advisor, Coach and Mentor, and with his support, will allow you to take control of your business and your future.
Coffee Chat - Bob Rehill & Barnaby Baker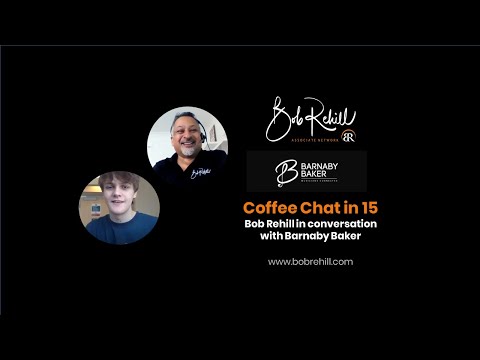 Coffee Chat - Bob Rehill & Barnaby Baker
"My chats with Bob are invaluable, his calming presence and thoughtful insight are often the highlights of a stressful week."
"My conversations with Bob have really helped me focus on what I want to do and to overcome the barriers that I think are stopping me. I have noticed a real positive mental shift in my outlook, and he has given me greater confidence as well as a wealth of industry expertise to call upon."
"I reached out to Bob at a time when I was dealing with a lot of change in my professional life in the middle of the global pandemic. The perfect storm of uncertainty professionally and personally. Bob has a naturally calming and disarming style that relaxes you and facilitates open, honest conversation. At a time of perceived vulnerability and a resultant unexpected crisis of confidence, he helped me focus on the factors I could influence and was a big influence in me snapping out of my inertia to proactively managing my situation."
Enquiries made easy
Only enter your details once
Quick and easy process
Unlimited enquiries